PM Modi has offered his suppot for Mohanlal's The Mahabharata, which will be made on the budget of Rs 1000 crore. The film is based on MT Vasudevan Nair's award-winning novel Randamoozham. And the film, which will be directed by Shrikumar Menon, was recently in trouble over its title.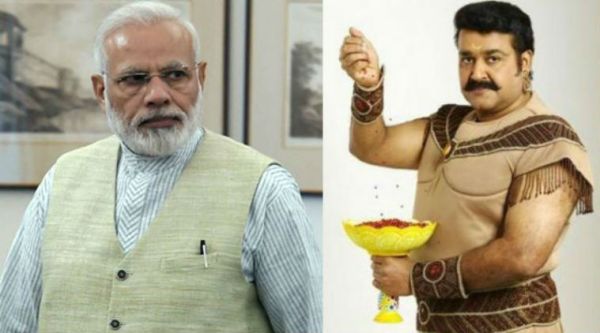 PM Modi offers support to Mohanlal's Mahabharata
Malayalam superstar Mohanlal's ambitious project, The Mahabharata, has run into trouble even before the project went on the floors. A pro-Hindu group has threatened to stall the release of the film demanding the makers to change the title of the film. But, now the film seems to have received the endorsement of the highest office of the country. Prime Minister Narendra Modi has written a letter to producer BR Shetty announcing his full support for the mammoth project.
In the letter, Modi has said he is awaiting the release of the film, which will be a matter of pride for the entire nation, reported Mathrubhumi. To thank the Prime Minister for his support, The Mahabharata team sought an appointment to meet him and it has been granted. According to reports, the film's crew will meet the Prime Minister on July 7.
The news regarding Modi's letter of support to The Mahabharata team comes on the heels of a threat issued by Kerala Hindu Aikya Vedi president KP Sasikala. The outfit had announced that it won't allow the release of the film unless the name of the film is changed. "We are happy but the Hindus here have a condition – only a film which is close to the story of real Mahabharatham written by Vyasan should carry its name. No other movie can be named Mahabharatham," Sasikala had said. Amid growing clamour to change the name of the film, Shetty reportedly wrote to the Prime Minister expressing his concerns. And PM Modi wrote back assuring him of his support.
On Sunday, however, Shetty announced that the film will release as Randamoozham, the original title of MT Vasudevan Nair's award-winning novel, in Malayalam. In rest of the world, it will release as The Mahabharata.
In MT's novel, the epic story is narrated from the perspective of Bheema, which will be played by Mohanlal. The film will be made in two parts with an estimated budget of Rs 1000 core. Each film will be 3 hours long and will have a huge star cast and crew from around the world. The shooting of the film, which will be directed by Shrikumar Menon, is scheduled to begin in 2018.
"The project will go on the floors in Abu Dhabi. I prospered and earned money in Abu Dhabi, so I want this film first to be shot in there before we move to other parts of the world," Shetty told media.